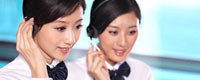 Name: Judy Li
Tel: +86-75536608295
E-mail: info@jreled.com
Add: Tongfuyu Industrial Area, Guangming new zone, Shenzhen city,China
Skype: gexinlcm1



Company News
>> LG, Samsung invest in German OLED company aiming at efficient blue
LG, Samsung invest in German OLED company aiming at efficient blue
LG and Samsung have invested a combined €25 million (about $30 million) in a small German OLED specialist that claims to be solving a big shortcoming in OLED technology by developing an efficient blue emitter.
Interested in articles & announcements on OLED developments?
Bruchsal, Germany-based Cynora said it will commercialize the product by the end of this year, using a technique called thermally activated delayed fluorescence (TADF).
The Series B investments by LG Display and Samsung Venture Investment Corporation call for both companies to work on separate Cynora projects advancing TADF materials for AMOLED — active matrix OLED — which is targeted at the market for TV screens and smartphone displays. Cynora, founded in 2008, is also positioning TADF for the general lighting market, where it promises leaps in efficiency and color temperature performance.
"This investment confirms that our materials are highly attractive for the OLED display industry," said Cynora CEO Gildas Sorin. "Cynora will work in close collaboration with LG and Samsung to support their respective activities. The cash injection will also be used to strengthen our worldwide presence as a supplier of high-efficiency emitting materials. We will commercialize our first blue product by the end of 2017, followed by green and red."